Josh Martin and Cynthia Primo Martin Honored With DSCC Marvel Cup Award
January 8, 2019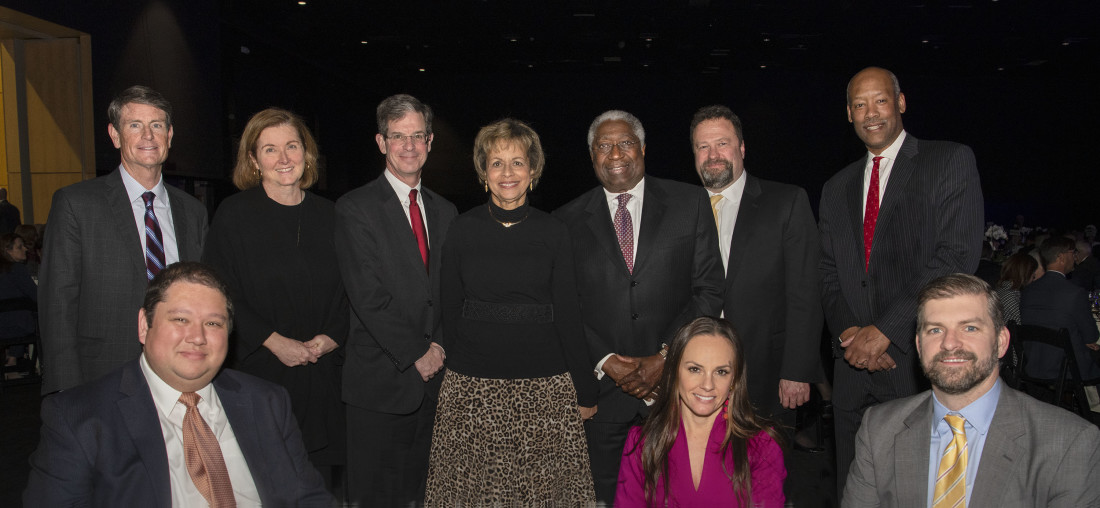 Top Row (l to r): Peter Walsh, Jr., Kathleen Furey McDonough, Matthew O'Toole, Cynthia Primo Martin, Joshua Martin, David Moore, William Chapman. Bottom Row (l to r): Alan Silverstein, Joy Barrist, John Sensing
---
At the Delaware State Chamber of Commerce's 182nd Annual Dinner last night, the DSCC presented the prestigious Josiah Marvel Cup Award to Joshua W. Martin III and Cynthia Primo Martin.
The Marvel Cup is awarded annually in honor of the memory of Josiah Marvel, who reorganized and was the first president of the modern-day State Chamber. It was established by the DSCC in 1951 to honor a Delawarean who has made an outstanding contribution to the state, community or society. The award was presented at the DSCC's 182nd Annual Dinner in Wilmington, Del., which included more than 1,000 business, state and community leaders. The evening's program included keynote remarks by Mark Vergnano, CEO and president of Chemours.
Josh Martin is senior counsel at Potter Anderson where he concentrates his law practice on mediation and arbitration and on business counseling, particularly in the areas of telecommunications, public utilities and governmental relations. Prior to joining the firm in 2005, he was president and CEO of Verizon Delaware. Before his corporate career, he served as a Delaware Superior Court Judge for eight years. A physicist by training, Martin began his legal career as a patent attorney for Hercules, Inc.
Cynthia Primo Martin, a nonprofit executive specializing in agency management, fund development and marketing, is the founder and executive director of Trustees of Color, an organization that works to ensure board diversity by expanding the pool of people of color to serve on Delaware's nonprofit boards through recruitment, training and support to boards and candidates.
The Martins are a couple truly committed to giving back to our communities. The accolades they both have received for their many contributions include:
University of Delaware's Medals of Distinction
Metropolitan Wilmington Urban League's James H. Gilliam, Jr. Humanitarian Award in recognition of contribution of time, effort and resources in support of the improved quality of life in the Wilmington community
Community Service Award from the DSBA Multicultural Judges and Lawyers Section for efforts to promote diversity in the bar and the Delaware community
For more information about the Chamber's Annual Dinner and Marvel Cup, visit the DSCC's website.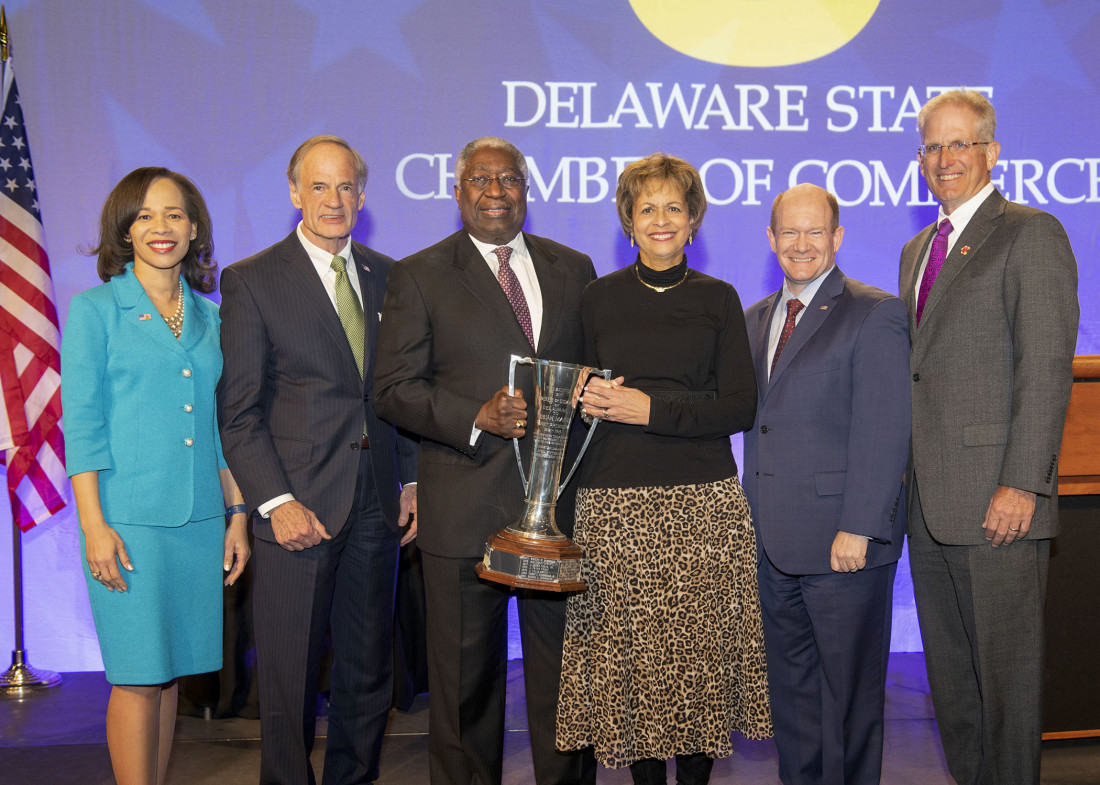 l to r: U.S. Representative Lisa Blunt Rochester, Senator Tom Carper, Joshua Martin, Cynthia Primo Martin, Senator Chris Coons, DSCC President Michael Quaranta
YouTube video honoring Josh Martin and Cynthia Primo Martin: https://www.youtube.com/watch?v=ZMdvYBvTSkc