Potter Anderson Again Named a Delaware Regional Powerhouse by Law360
August 23, 2023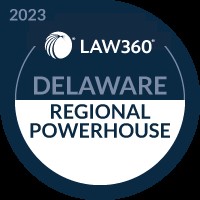 Law360 (August 22, 2023, 2:36 PM EDT) -- Potter Anderson & Corroon LLP had an incredibly busy year advising on several multibillion-dollar acquisitions, representing high-profile companies like Twitter and Amazon in corporation litigation and helping clients navigate complicated bankruptcy proceedings while growing its practice.
The almost 200-year-old firm, which is featured in Law360's annual Regional Powerhouses series as a 2023 Delaware Powerhouse, has 88 attorneys all based out of one office in Wilmington, Delaware. The firm's practices include corporate litigation, mergers and acquisitions, bankruptcy, intellectual property, labor and employment and real estate.
Potter Anderson's practice leaders recently told Law360 Pulse that what set this past year apart from previous years when the firm was recognized as a Delaware powerhouse was the high-profile nature of their corporate litigation, their volume of work and the growth of their bankruptcy group.
Read the full article on Law360's website.