Delaware Corporate Law 2019 Year in Review
February 28, 2020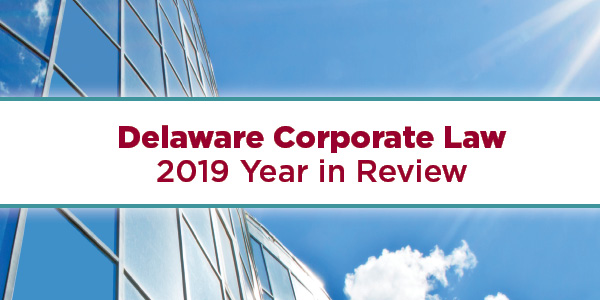 In looking back on 2019, it occurred to us that a number of seminal Delaware
corporate law cases have stood the test of time in providing a framework
for emerging corporate disputes. Such cases include Caremark and Zapata v.
Maldonado, among others. It is for that reason we have chosen to highlight some
of the recent cases emblematic of "what's old is new." Before doing so, however,
we would be remiss in failing to note the major changes to the Delaware bench
that occurred in 2019. In July, Chief Justice Leo Strine, Jr. announced that he
would step down from the Supreme Court. His October 2019 retirement ended a
twenty-year career on the Delaware bench, first as a Vice Chancellor in the Court
of Chancery, then as Chancellor, and finally as Chief Justice, a position he held
since 2014. Unquestionably, Chief Justice Strine has had a profound and positive
impact on Delaware corporate law, for which we are all grateful.
Delaware's new Chief Justice, Collins J. Seitz, Jr., ascended to the role after
serving as an Associate Justice since 2015. Vice Chancellor Tamika Montgomery-
Reeves was appointed to fill the open Supreme Court seat, becoming Delaware's
first African-American Supreme Court Justice.
To fill the opening left by Vice Chancellor Montgomery-Reeves' appointment,
Governor Carney nominated Paul Fioravanti, Jr. On January 15, 2020, the
Delaware Senate confirmed him as the newest member of the Court of
Chancery. Vice Chancellor Fioravanti joins the bench after twenty years with
Prickett, Jones & Elliott, P.A., where he had extensive experience representing
both plaintiffs and defendants in corporate litigation, making him a natural fit
for the Court of Chancery.
2019 also marked the first full year in which the Court of Chancery was staffed
with seven judges. Vice Chancellor Morgan Zurn and Vice Chancellor Kathaleen
McCormick have been welcome additions as the Court's caseload has continued
to increase, with 1,049 new civil cases filed in 2019. As part of its busy caseload
in the last year, the Court has considered numerous complex corporate and
commercial cases that required it to revisit long-standing doctrines in unusual
circumstances. We were fortunate to represent parties in many of these cases.
Below is a discussion of three lines of cases illustrative of the reemergence of
important and doctrinal precedent, dating to the early 1980s; they include
broken-deal litigation, Caremark claims, and special litigation committees.
View Document(s):