Delaware Corporate Law 2021 Year in Review
March 17, 2022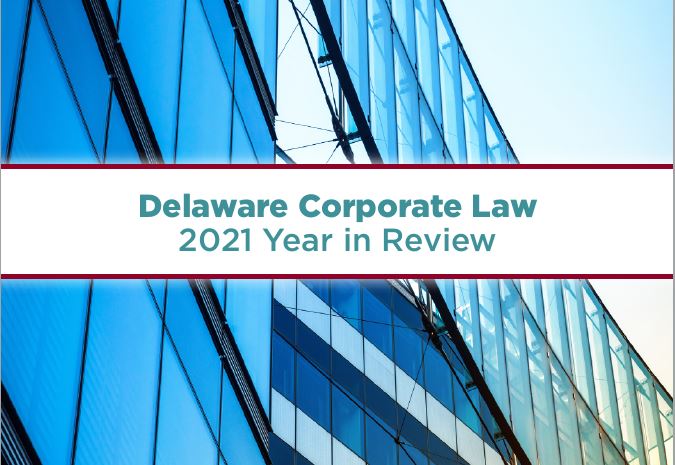 2021 was a year of change. It brought not only important developments to Delaware's body of corporate law, but also change to the composition of the Court of Chancery. First, on changes to the Court, in April, Chancellor Bouchard retired as Chancellor after seven years of exemplary service to the Court. Chancellor Bouchard oversaw the expansion of the number of members of the Court, presided over numerous high-profile cases, and authored rulings that have proven beneficial to Delaware and corporate practitioners. His rulings in Trulia and KKR, which led to the Delaware Supreme Court's Corwin decision, come to mind as ones that will have a lasting and positive impact on deal litigation in Delaware.
With the retirement of Chancellor Bouchard, Vice Chancellor Kathaleen McCormick was elevated to the Chancellor position. As a result, she became the first woman ever to hold the title of Chancellor of the Court of Chancery. Chancellor McCormick has done a superb job in taking over at the helm during the pandemic, while managing the Court's resources to handle an ever-increasing docket. The vacancy her appointment as Chancellor created was filled by Lori Will, a partner in the Wilmington office of Wilson Sonsini Goodrich and Rosati. Finally, as we entered the early days of 2022, Vice Chancellor Slights announced that he will be retiring this spring. As a firm, we are extremely grateful for his long service to the State of Delaware, both as a judge on the Superior Court and as a Vice Chancellor. His intellect, demeanor, work ethic, and sense of fairness will be missed, and of course we wish him the best as he embarks on his next stage.
Notwithstanding these significant changes to the composition of the Court of Chancery, it was an extremely busy year for the Court, and, in turn, the Supreme Court of Delaware. 2021 saw a continuation of the phenomenon seen in 2020 of "busted deal" cases stemming from the pandemic, as well as Caremark claims surviving motions to dismiss. Several of these cases are discussed below and are must-reads for corporate practitioners. Moreover, the Supreme Court had occasion to address long-standing precedent surrounding stockholder derivative actions, including dispensing with the Gentile "dual-natured" exception and refining the test for determining demand futility. These too are discussed below, together with those decisions that we view as the most noteworthy of 2021 and early 2022.
View Document(s):