Delaware Corporate Law 2022 Year in Review
March 2023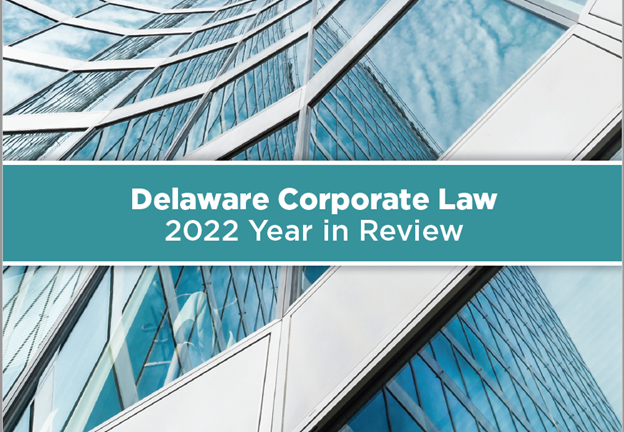 2022 was a momentous year for the Court of Chancery. Vice Chancellor Joseph Slights retired after six years in Chancery. The firm thanks Vice Chancellor Slights for his exemplary service as both a Vice Chancellor and as a judge on the Superior Court. Nathan Cook filled the vacancy Vice Chancellor Slights' retirement created. Prior to joining the bench, Vice Chancellor Cook was managing partner of Block & Leviton LLP and represented plaintiffs in many high-profile Chancery matters.
The State also authorized the creation of a third Master in Chancery position, which was filled by Loren Mitchell, previously a Deputy Attorney General at the Delaware Department of Justice. Master Patricia Griffin retired in December, and Bonnie David, previously Counsel at Skadden, Arps, Slate, Meagher, and Flom LLP's Wilmington office, replaced her in January 2023. The ten judicial officers comprise the Court's largest bench ever. The growth of the Court is a welcome development as the Court's caseload increases. In 2022, over 1,200 new actions were filed in the Court of Chancery.
In typical "hands-on" fashion, the Court of Chancery tackled a number of high-profile and cutting-edge cases in 2022. The year began and ended with the attack of the SPACs, with the Court finding that SPACs will be treated like any other Delaware corporation and established standards of review that will apply. The Court also weighed in on hotly contested proxy contests, resolving issues over advance notice bylaws and reaffirming the principle of corporate neutrality for divided boards. Among its many accomplishments was the Court's handling of the Elon Musk-Twitter battle arising from Musk's acquisition of Twitter. Although the case did not proceed to trial, Chancellor McCormick masterfully handled the extraordinary demands placed on the Court by a multiplicity of motions and increased public scrutiny under an expedited time frame. Below we have summarized some of these cases along with the other decisions we view as most notable from 2022 and early 2023.
Looking forward, the Delaware Supreme Court will undergo significant changes, as Governor Carney will need to fill the vacancies resulting from Justice Tamika Montgomery-Reeves appointment to the Third Circuit in December 2022 and Justice James Vaughn, Jr.'s pending retirement in May 2023. The firm thanks both Justice Montgomery-Reeves and Justice Vaughn for their years of dedicated service on both the Supreme Court and the Court of Chancery and Superior Court, respectively.
View Document(s):